Our Wagyu beef comes from a farm in France, located in a lovely rural region which is famous for its terroir. The rich architectural heritage of this part of northern France encompasses abbeys, châteaux and fortified farms.
Find Wagyu beef in France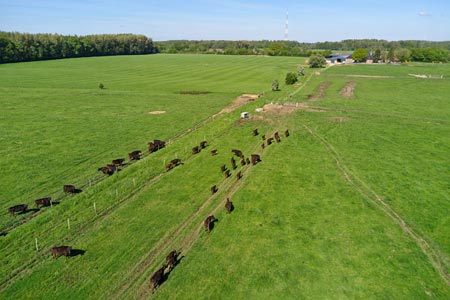 Our farm spans 15 hectares (150,000 m²) of natural parks and woods and 47 hectares (470,000 m²) of pastureland. To date, livestock farming is one of our main activities, with expansive green areas between very dense forests of leafy trees. Wooded embankments, tree lines and hedges form the very typical natural limits of agricultural plots here.

A stroll through this natural property reveals a tremendous wealth of trees, like Fraxinus excelsior (ash), Acer (maple), Carpinus betulus (hornbeam) and of course different kinds of Tilia (linden), which inspired the name of the property. Each specimen is impressive, ranging in age from 60 to 100 years. The jewel in the crown is indisputably the robust 300-year-old oak tree growing alongside the farm.
In the vast pastures where we rear our Kobe cattle, you will undoubtedly catch a glimpse of hares, partridges, roe, boars and foxes.
Our property and its exceptional land produce Wagyu beef of the highest quality.
To meet your culinary tastes, Kobe is available in different forms, with cooking times which can be adapted to personal preferences. For example, you will find the finest cuts of Kobe beef at gourmet restaurants. Michelin-starred chefs will quickly differentiate between traditional high-quality beef and extraordinary Kobe beef:
A delicious pan-fried ribeye, a magnificent Kobe prime rib, a barbecued tri-tip, or a stone-grilled fillet to be savoured
An internal flank plate or rump steak to grill up with chips and a green salad
A nicely seasoned Venetian-style Kobe beef carpaccio with a good coating of vinegar with a lemon juice and olive oil base.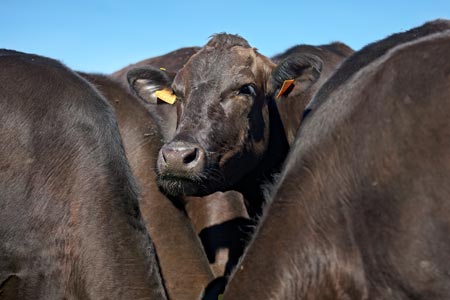 These cuts of Kobe beef are often prepared using traditional cookers:
Whole Kobe beef shin shanks for ossobuco or couscous
Kobe beef short ribs or neck for a stew or tagine, but also Couscous Royale
Blade oyster, topside or chuck for beef bourguignon, roast stew, grilling or tournedos, thick cut steak and roast beef.
And lastly, depending on each country's traditions, you may be able to find the following Kobe products:
Iron-rich Kobe liver could be sliced and pan-fried rare, and the heart could be stuffed and baked.
Fans of offal could use different parts of Kobe cows like the tongue, poached in stock and simmered with vegetables and spices to make typical Middle Eastern or Asian dishes.
In fact, in Asia, Kobe beef is sometimes used in curry, accompanied by noodles or rice, either sautéed in a wok with thinly sliced vegetables or simmered over low heat in coconut milk.
Beef casserole can be made from Wagyu shoulder meat, diced and cooked in a casserole dish.
For your outings, there is always the possibility of delicious dried Kobe beef jerky or a nourishing salad made with Kobe beef leftovers, accompanied by subtle condiments.
Online store of Wagyu meat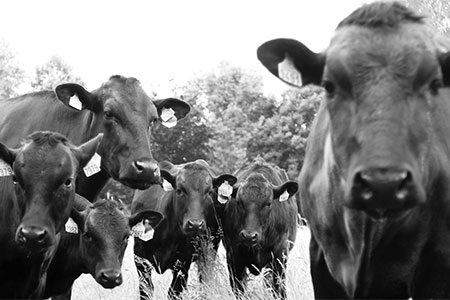 You can find all the pieces of Wagyu meat (rib steak, rib eye, burger, etc.) in our online store ->
You can also contact us directly:
Wagyu H
14 rue du Dr. Jean Reygasse
31270 Cugnaux - France
Tel. : +33 6 45 10 07 76