Wagyu Internal flank plate - 1 kg
Wagyu cattle meat has a higher marbling (intense marbling), which makes it incredibly tender, rich in aromas and juicy. The Wagyu Internal flank plate comes from authentic Japanese Wagyu breeds raised outdoors in the north of France and without the use of antibiotics or hormones.
Secure payments CB & Paypal

Delivery 48 to 72 h subject to availability

Pure breed quality
Only the genetics of purebred Wagyu can determine the tenderness and unparalleled flavour of the meat. So, don't let yourself be deceived by derivatives of genuine breeds! These are often the result of cross-breeding with other breeds of cattle like Black Angus. There is no label to guarantee the purity of the meat, so many fakes are unfortunately now circulating on the market. Connoisseurs will however immediately notice the difference in flavour.
WAGYU H offers meat from purebred Kobe cattle.
Packing and storage
Fresh Wagyu beef can be stored in a controlled environment (MAXIMUM of 0-4°C / 32-39°F) for three to four weeks.
Wagyu H sells fresh or frozen beef. The DHL Express cold chain is perfectly suited to fresh or frozen meats.
Our meats are vacuum-packed for better preservation and can be stored for up to one to three weeks, as per the lab els on the purchased cuts of Wagyu beef. Take out the meat one to two hours before cooking for optimal flavour.
You can then freeze any leftover pieces of Wagyu for up to six months (recommended limit).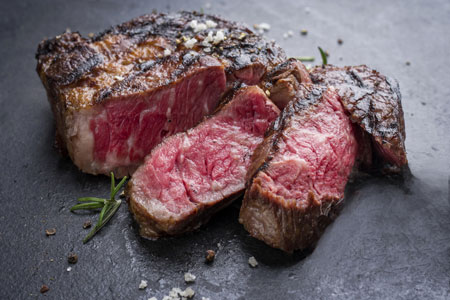 How to cook your Wagyu beef?
Take the meat out of the fridge at least an hour before it is cooked.
Place the meat on the very hot pan and move it so that it does not stick.
Cook over high heat for 2 minutes per side.
Take out the meat and cut it into medallions